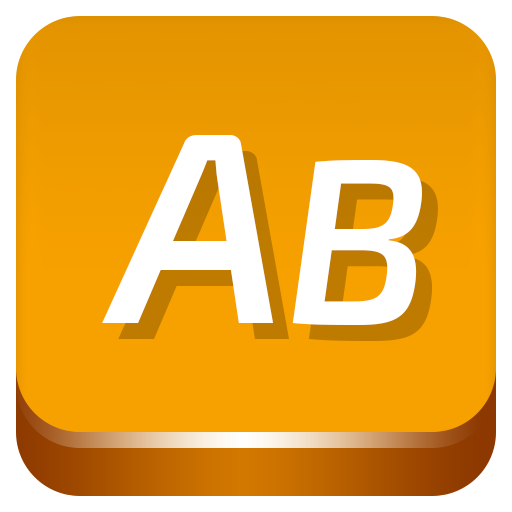 In the previous DecSoft's blog entry (Android apps with DecSoft's App Builder) we learn how to be ready with our DecSoft's App Builder apps to be run in the Android platform, that is, how we must prepare our Windows environment to install Apache Cordova and the related software, in order to get the right APK files of our apps, to be tested and deployed to the users.
In this other blog entry we will learn about what we need in order to prepare the appropriate environment for our apps to be run in the iOS platform. That is, what hardware and sofware we need in order to get the best results as possible. And what is the difference between to build our apps for the Android or the Windows platforms, and, do the same for the iOS platform.
The AB integration
DecSoft's App Builder offer the right integration with Apache Cordova in order to build our apps in different platforms like Android, iOS, Windows and others. DecSoft's App Builder creates the right configuration and build files, icons and splash screens, BAT files for Windows and SHELL files for Mac OS, to directly buid our apps just by execute the right BAT or SHELL files.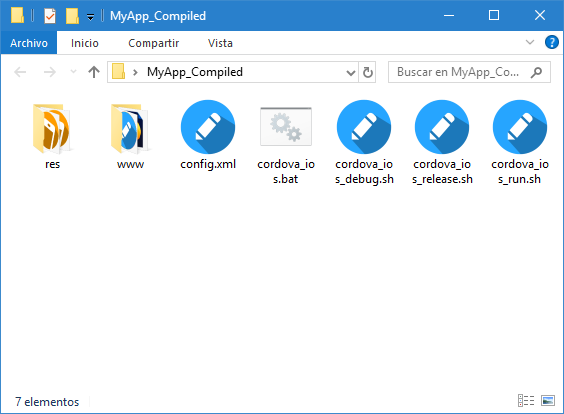 Once we execute the right BAT or SHELL file, what Apache Cordova do for us, is to create the appropriate "project" for the right integrated development environment or IDE. This means, for example, that, in the case of the Android platform, what Apache Cordova prepare for us is a complete project for Android Studio, ready to be tested, compiled and deployed.
Windows environment

In fact, and, talking about the Android platform, we can directly get an signed APK file ready to be deployed in the Google store, for example. This is possible because Apache Cordova can use the appropriate command line stuff provided by Android Studio and the Android SDK. Gorgeous! Don't you? However, talking about the iOS platform, the things are a bit different...
For the iOS platform Apache Cordova can also create an IPA file for us, ready to be tested, compiled and deployed, however, we must have a Mac OS. Then, as you can see, the concept is the same: DecSoft's App Builder prepares the appropriate stuff for Apache Cordova, and, Apache Cordova creates a project ready to be compiled by some IDE: Android Studio for Android, XCode for iOS and Visual Studio for Windows.
Mac OS environment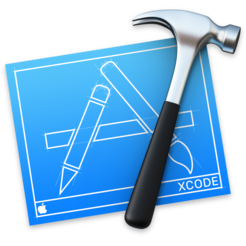 The above means that we can't create the XCode project from Windows? DecSoft's App Builder provide to us with a BAT file in order to compile our apps with Apache Cordova for iOS in Windows. Additionally, DecSoft's App Builder provide us also the right SHELL files to be used directly in Mac OS. These BAT and SHELL files can prepare the right XCode project for our apps in both Windows and Mac OS.
And what to do when we already creates the XCode project? It's quite simple: we only need to open XCode and compile our app from that IDE. Then the only "problem" here is that we need a Mac OS computer, since XCode is available only for the Mac OS operating system. So in order to be ready with iOS apps, we need a Mac OS computer, and, probably, also an iOS device like an iPhone, in order to test our apps to assert that they works as expected.
The big difference
As you already know, the big difference between the Android, Windows and iOS platforms of Apache Cordova, is that for the iOS platform we need a Mac OS computer. On the contrary, to be ready with the Android and the Windows platforms we only need an computer with the Windows operating system.
This can appear as a problem, however, if we plain to develop apps for iOS, then we need to debug our apps, and, how we can do this in the best way without an Mac OS and an iOS device?
If we are plain to develop for the iOS platform, we need an Mac OS computer in order to get our IPA files and upload the app to the Apple store or distribute it in other way. We need an iOS device in order to debug our apps before publish it. This appear something logical: without a real device to test our apps and without a Mac OS to create our IPA files, maybe we can't get the best results as possible.
Phonegap alternative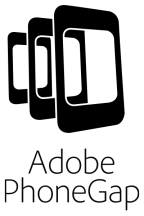 So what happen if we do not have a Mac OS computer nor an iOS device? Maybe we can consider to use Adobe Phonegap. This service offer a way to compile our apps for the iOS platform without a Mac OS nor an iOS device. DecSoft's App Builder is integrated also with Phonegap, then we can try it, but, honestly we prefer to use directly Apache Cordova (Phonegap is based in Apache Cordova at the end).
We honestly think that, except very, very specific and more or less simple apps, have a Mac OS computer and an iOS device to test our apps is the unique way to obtain the best results as possible. Even when Adobe Phonegap can be a good choice in certain cases, if our apps are more or less complex, we want to have more control about their build, and, we also want to debug our apps in a real iOS device.
---
---
Conclusion
If you already have a Mac OS computer and some iOS device, congratulations! Install Apache Cordova and then you can simply execute the appropriate SHELL file provided by DecSoft's App Builder in order to prepare the right XCode project for your app and also to directly get the IPA files, debug your apps in your iOS device and finally your apps and distribute it into the Apple Store or in other way.
If you don't have a Mac OS nor an iOS device, you can consider to try Adobe Phonegap. Maybe it's enough for your app. Even if you are playing with Windows it's possible to get an XCode project of your app ready to be build. But you can't build that project with XCode, since this IDE is not available for the Windows OS.
Any question?
If you have any question, please, don't hesitate to use the DecSoft's contact form or just write an email to info@decsoftutils.com.
---
Try DecSoft's App Builder for free!
Like all of the DecSoft's products, the App Builder demo release is not limited in features nor time, so you can try the program the time that you need and using all the available characteristics. Play with the
more than 50 app samples
included by the program, the contextual program's help and get more help in the
DecSoft's support forum
.
---
---
Ask us anything about our products
---
---
[...] en el tiempo que llevo yo en este mundillo del VisualNeo, para mi gusto, tus plugins son los que mas te solucionan la papeleta, por lo menos para las cosas que yo hago.